<!IMG SRC="pixel.gif" HEIGHT=1 WIDTH=180>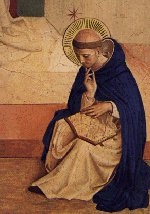 Saint Dominic
contemplating the Scriptures
<! -------------------------End H:\Comments\BoilerPlate\intros2.shtml >

Isaiah 2:1-5

When Isaiah wrote this message, the people of Judah were dispirited. Assyrian armies were set to conquer Judah. Many doubted God's ability to preserve the dynasty of David in accordance with the promise he had made to David. Others believed themselves to be invincible in the face of enemies.
---
Romans 13:11-14
Paul has said that Christians have a responsibility to keep civil laws, not just because of the penalties incurred in not keeping them, but also as a matter of conscience. Loving our neighbours implies living ethically. Now he mentions another reason for ethical behaviour.
---
Matthew 24:36-44
Jesus has foretold the destruction of the Temple. When his followers have asked what indications there will be that the end of the current era is close, he has answered using contemporary images. He has told them that they will suffer trials, but "the one who endures to the end will be saved".
© 1996-2016 Chris Haslam