<!IMG SRC="pixel.gif" HEIGHT=1 WIDTH=180>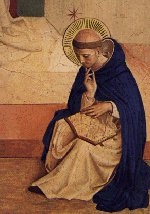 Saint Dominic
contemplating the Scriptures
<! -------------------------End H:\Comments\BoilerPlate\intros2.shtml >

Isaiah 7:10-16

The kings of Syria and Israel are bent on conquering Jerusalem and installing a puppet king on Judah's throne – one not descended from David. Speaking through Isaiah, God has told Ahaz, King of Judah, to trust in God rather than in human counsel. If Ahaz stands firm in faith, the conquest will fail.
---
Romans 1:1-7
The Church at Rome was one Paul had neither founded nor visited, although he hopes to meet the members of this community soon, to share spiritual gifts with them, and for the encouragement of their faith and his.
---
Matthew 1:18-25
Matthew has told us of Jesus' descent from David, through Joseph. A marriage contract has been signed by Joseph (or his parents) and by Mary's parents. Certainly in earlier times if a bride was found by her husband to be already pregnant, she could be stoned to death. But Mary is with child through divine intervention.
© 1996-2016 Chris Haslam