<!IMG SRC="pixel.gif" HEIGHT=1 WIDTH=180>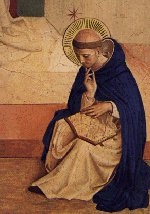 Saint Dominic
contemplating the Scriptures
<! -------------------------End H:\Comments\BoilerPlate\intros2.shtml >

Revelation 7:9-17

This reading tells what will happen to the "saints", to those who are faithful at the End of Time or the Last Judgement. John's vision involves throne and courts: symbols that were part of his culture, but which are hard for us to understand; however, the message today is the same as it was then.
---
1 John 3:1-3
The author has contrasted those who truly believe that Jesus is the Christ, showing it in their lives, and those who say they know Christ but do not behave accordingly.
---
Matthew 5:1-12
Jesus has travelled through Galilee teaching, proclaiming the good news, and curing people of physical and spiritual illnesses. Great crowds from Israel and beyond have flocked to him.
© 1996-2016 Chris Haslam