<!IMG SRC="pixel.gif" HEIGHT=1 WIDTH=180>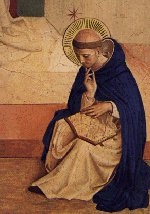 Saint Dominic
contemplating the Scriptures
<! -------------------------End H:\Comments\BoilerPlate\intros2.shtml >

Acts 2:14a,22-32

Luke has described the coming of the Holy Spirit as best he can in human terms. He writes that it was "like the rush of violent wind" and "divided as of fire". Now, on behalf of the other apostles, Peter has begun interpreting the event to the crowd that has gathered.
---
1 Peter 1:3-9
The author writes to churches in rural Asia Minor. He addresses his letter to those "chosen and destined" by the Father and "sanctified" by the Holy Spirit in order "to be obedient to Jesus Christ" and to share in the forgiveness available through Christ's sacrificial death.
---
John 20:19-31
Early on Easter Day, Mary Magdalene has recognized a man standing near the tomb as Jesus. She has told the disciples: "I have seen the Lord." The disciples fear that they may suffer the same fate as their master.
© 1996-2016 Chris Haslam