<!IMG SRC="pixel.gif" HEIGHT=1 WIDTH=180>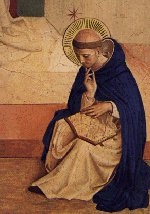 Saint Dominic
contemplating the Scriptures
<! -------------------------End H:\Comments\BoilerPlate\intros2.shtml >

Acts 2:14a,36-41

Peter now comes to the conclusion of his speech to the Jerusalem crowd, in which he interprets the event they have just witnessed: the coming of the Holy Spirit. He has accused them of responsibility for Jesus' death.
---
1 Peter 1:17-23
The author has urged his readers: "discipline yourselves", be ready for Christ's second coming. Do not fall back into the pagan immorality you practised before your conversion to the faith; rather, separate yourselves from such ways: live ethically.
---
Luke 24:13-35
It is later on Easter Day, the day on which Mary Magdalene and the other women have discovered the empty tomb. Two messengers from God have told them that Jesus has risen, as he predicted. But two of Jesus' followers aren't so sure.
© 1996-2016 Chris Haslam