<!IMG SRC="pixel.gif" HEIGHT=1 WIDTH=180>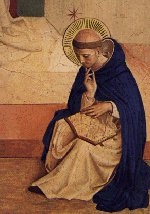 Saint Dominic
contemplating the Scriptures
<! -------------------------End H:\Comments\BoilerPlate\intros2.shtml >

Acts 1:6-14

Jesus has risen from death. He has shown that he is really alive by eating with the disciples. They have prepared for the next phase of the era of the risen Lord. Now, as he has instructed them, they await the launch of the age of the Church in Jerusalem.
---
1 Peter 4:12-14;5:6-11
We now come to the closing verses of this letter to Christians who are suffering some form of persecution. The author tells them that to be considered inferior by the world is to be fortunate in God's eyes. Jesus is not just an example of one who has suffered while doing good.
---
John 17:1-11
Jesus prays for his followers and all those who will believe through them. This passage is a fitting culmination to his earthly ministry, and leads on to the Cross.
© 1996-2016 Chris Haslam