<!IMG SRC="pixel.gif" HEIGHT=1 WIDTH=180>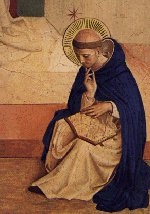 Saint Dominic
contemplating the Scriptures
<! -------------------------End H:\Comments\BoilerPlate\intros2.shtml >

Genesis 12:1-4a

In a time of migration of peoples about 4,000 years ago, Terah has travelled west with his son Abraham, Abraham's wife Sarah and his grandson Lot from Ur, near the delta of the Tigris and Euphrates rivers. They have settled for a time in Haran. Upon Terah's death, Abraham comes to centre-stage.
---
Romans 4:1-5,13-17
Paul has written that one can attain a right relationship with God through faith, without living by Mosaic law. Now he takes Abraham as an example; he asks: what can we conclude about coming to God by faith rather than by Law?
---
John 3:1-17
Isaiah has been told that most people will reject God's message, preferring their traditional ways. Now Nicodemus, a devout and learned leader in Judaism, shows himself to be so steeped in traditional ways of thinking about God that he rejects Jesus' teaching about how to enter the Kingdom of God.
---
Matthew 17:1-9
Peter has confessed that Jesus is indeed the Messiah. Jesus has predicted that the Son of Man will come in God's glory before some present have died. Some see the Transfiguration as fulfilling this prediction.
© 1996-2016 Chris Haslam