<!IMG SRC="pixel.gif" HEIGHT=1 WIDTH=180>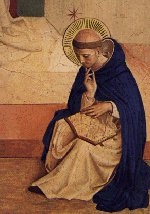 Saint Dominic
contemplating the Scriptures
<! -------------------------End H:\Comments\BoilerPlate\intros2.shtml >

Isaiah 9:1-4

Isaiah tells of a future time when those in the northern regions of Israel, whom God subjugated to Assyrian rule, will not only be free but will also reflect God's power. Those so honoured will include people of many nations.
---
1 Corinthians 1:10-18
In the preceding verses, Paul has omitted mention of faith, hope and love for each other, as spiritual gifts exercised by the Christians at Corinth. Now he tackles the problem of divisions in the community. Our loyalty should be to Christ and not to particular leaders.
---
Matthew 4:12-23
Jesus has been tempted by the devil in the wilderness. His responses show his complete dedication to the will and purpose of God. He has refused to use his divine power to his own human ends. Now he moves to Capernaum to launch his public ministry.
© 1996-2016 Chris Haslam