<!IMG SRC="pixel.gif" HEIGHT=1 WIDTH=180>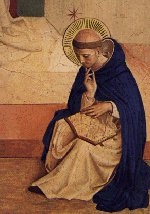 Saint Dominic
contemplating the Scriptures
<! -------------------------End H:\Comments\BoilerPlate\intros2.shtml >

Leviticus 19:1-2,9-18

These laws tell the people of Israel what God expects of them, how they are to live with each other. They are an advance on the Ten Commandments.
---
1 Corinthians 3:10-11,16-23
Paul has likened the church at Corinth to a growing crop in a field. Now he likens it to constructing a building.
---
Matthew 5:38-48
Jesus teaches a crowd that he has come to flesh out the meaning of Mosaic law. God expects us to go beyond the requirements of the Ten Commandments, to a higher ethic.
© 1996-2016 Chris Haslam