<!IMG SRC="pixel.gif" HEIGHT=1 WIDTH=180>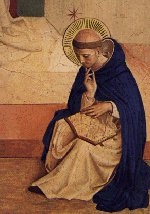 Saint Dominic
contemplating the Scriptures
<! -------------------------End H:\Comments\BoilerPlate\intros2.shtml >

Genesis 24:34-38,42-49,58-67

Abraham has sent his head servant to Haran to find a wife of his own clan for Isaac. God has shown the servant that Rebekah is his choice. The servant has accepted the invitation of her brother to spend the night with her family. But before he will eat, he insists on telling the purpose of his journey.
---
Romans 7:15-25a
Paul has written that in baptism we are admitted to a new way of being, in which sin is no more. But we are yet to enter into this new life fully. We are still, to an extent, under the influence of sin.
---
Matthew 11:16-19,25-30
Jesus has indicated to some of John the Baptist's disciples that he is the Messiah and that John is the messenger who has prepared the way for him. But many do not recognize them for who he and John are.
© 1996-2016 Chris Haslam