<!IMG SRC="pixel.gif" HEIGHT=1 WIDTH=180>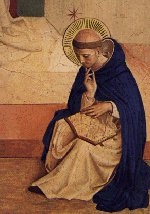 Saint Dominic
contemplating the Scriptures
<! -------------------------End H:\Comments\BoilerPlate\intros2.shtml >

Genesis 29:15-28

After meeting God in a vision, Jacob has travelled on to Haran, seeking a wife of his own clan. He has met Rachel at the well. Leaving the sheep with Jacob, she has run to tell her father, Laban. Laban has welcomed him into his home as a member of his extended family.
---
Romans 8:26-39
Paul has written of the new way of being that we attain in baptism: we are freed of compounding sin leading to the finality of death – and begin living in and with the Spirit, thanks to God's gift of love. Living a truly godly life lies ahead; we have not yet achieved it. We need help from the Holy Spirit.
---
Matthew 13:31-33,44-52
Jesus has told his disciples several parables about the kingdom of heaven. Now he tells two short ones about the growth of the kingdom, and two about different approaches to membership in it.
© 1996-2016 Chris Haslam