<!IMG SRC="pixel.gif" HEIGHT=1 WIDTH=180>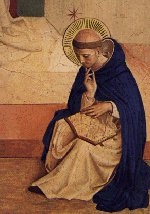 Saint Dominic
contemplating the Scriptures
<! -------------------------End H:\Comments\BoilerPlate\intros2.shtml >

Genesis 32:22-31

After serving Laban for many years, Jacob has decided to return home to Canaan. He has sent messengers ahead to Esau seeking favour with him, but they have returned with the news that his brother is bringing an army with him. He has asked God for deliverance and has sought to appease Esau.
---
Romans 9:1-5
Paul has written of the new life in Christ, in the love of God, aided by the Holy Spirit. Christians are adopted as children of God and share in the heritage of Christ. Now he confronts a thorny question: why have most of God's people, the Jews, rejected the good news?
---
Matthew 14:13-21
Jesus has been teaching his disciples and the crowds about the Kingdom of God. But his words are not accepted by all. He has been rejected in his hometown and misunderstood by Herod. He thinks that Jesus may be John the Baptist raised from the dead. But Herod had executed John.
© 1996-2016 Chris Haslam