<!IMG SRC="pixel.gif" HEIGHT=1 WIDTH=180>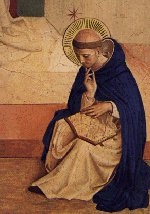 Saint Dominic
contemplating the Scriptures
<! -------------------------End H:\Comments\BoilerPlate\intros2.shtml >

Genesis 45:1-15

Joseph has risen to a position of importance in Egypt. Thanks to his management, the Egyptians have enough supplies to last through a famine. Joseph's brothers have travelled to Egypt in search of supplies, which they have been given. They have left their brother Simeon behind in Egypt as surety that they would soon return with Benjamin, but they did not. Now desperation has forced them to return in search of food. They still do not realize that the Egyptian manager is the brother they sold into slavery years earlier. But Joseph knows all.
---
Romans 11:1-2a,29-32
Struggling to understand why most of his fellow Jews do not have faith in Jesus, Paul comes to see it not as implying God's rejection of Israel, but as part of God's merciful plan to make room for all nations within the covenant.
---
Matthew 15:10-28
When Pharisees and scribes from Jerusalem have asked why Jesus' disciples do not follow the oral tradition of ceremonially washing their hands before eating, he has criticized the Pharisees for putting the unwritten law above Mosaic law.
---
Matthew 15:21-28
While at Gennesaret on the western shore of the Lake of Galilee, Jesus has raised the ire of Pharisees by insisting that one's respect for the rights and interests of others, as required by the Ten Commandments, matters more than rules of human origin.
© 1996-2016 Chris Haslam