<!IMG SRC="pixel.gif" HEIGHT=1 WIDTH=180>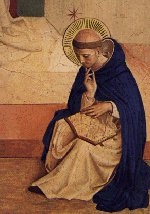 Saint Dominic
contemplating the Scriptures
<! -------------------------End H:\Comments\BoilerPlate\intros2.shtml >

Exodus 12:1-14

Trying to convince the Pharaoh to let the Israelites leave Egypt and slavery behind, God has assailed the Egyptians with nine plagues, but so far the Pharaoh has refused to let them depart, and to acknowledge the supremacy of Israel's God.
---
Romans 13:8-14
Paul has written about the obligations we Christians have to civil authorities. He now continues his instructions on ethics for Christians.
---
Matthew 18:15-20
Jesus has just told the parable of the lost sheep. When one sheep gets lost, he has said, doesn't the shepherd go in search of the one that went astray and rejoice over this one more than over those who have never strayed? Now he turns his attention to relations in the Christian community.
© 1996-2016 Chris Haslam