<!IMG SRC="pixel.gif" HEIGHT=1 WIDTH=180>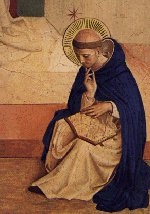 Saint Dominic
contemplating the Scriptures
<! -------------------------End H:\Comments\BoilerPlate\intros2.shtml >

Exodus 32:1-14

The people of Israel have received the Ten Commandments verbally, but Moses is still up on Mount Sinai receiving them in writing.
---
Philippians 4:1-9
Paul began the conclusion to the letter in the previous chapter. After a digression – to warn against heresy and self-indulgence and to urge devotion to Christ – he tries to finish the letter, but certain concerns intrude.
---
Matthew 22:1-14
During the last week of his earthly life, Jesus tells a third parable about admission to the kingdom of heaven. Knowing the story of the feast in Isaiah 25, his first audience would naturally associate a king's banquet with the inauguration of the era beyond the end of time.
© 1996-2016 Chris Haslam