<!IMG SRC="pixel.gif" HEIGHT=1 WIDTH=180>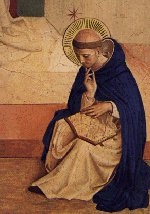 Saint Dominic
contemplating the Scriptures
<! -------------------------End H:\Comments\BoilerPlate\intros2.shtml >

Deuteronomy 34:1-12

This is the final chapter of Deuteronomy and of the Pentateuch, the first five books of the Bible. The wandering is over; Moses has prepared the people of Israel for entry into the Promised Land through instruction in God's ways.
---
1 Thessalonians 2:1-8
In Chapter 1, Paul has written "you know what kind of persons we proved to be among you for your sake." Now he gives thanks for the success of his missionary work at Thessalonica.
---
Matthew 22:34-46
Some Sadducees (who believed that life ended with physical death) have argued with Jesus, trying to show the absurdity of belief in resurrection. He has told them that they neither understand the power of God nor the purpose of the Scriptures.
© 1996-2016 Chris Haslam