<!IMG SRC="pixel.gif" HEIGHT=1 WIDTH=180>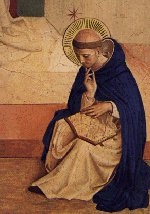 Saint Dominic
contemplating the Scriptures
<! -------------------------End H:\Comments\BoilerPlate\intros2.shtml >

Ezekiel 34:11-16,20-24

Centuries since the completion of the conquest of the Promised Land, affairs are in a sorry state. Due to bad kings – called shepherds here – Judah is now subject to Babylonian rule, and while some Israelites have been deported, others have scattered far and wide.
---
Ephesians 1:15-23
Paul has written of the Father's wisdom and insight in making known to us his will, his plan for completion of the restoration of the faithful to oneness with him, as told by Jesus. That both Jews and Gentiles share so much he sees as a milestone in this plan.
---
Matthew 25:31-46
Jesus has just told three parables about the kingdom of heaven, the last one emphasizing the importance of faith in attaining entry to this blessed state. Now he speaks of the conduct expected of faithful people.
© 1996-2016 Chris Haslam