<!IMG SRC="pixel.gif" HEIGHT=1 WIDTH=180>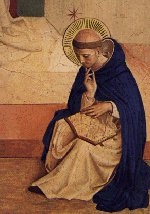 Saint Dominic
contemplating the Scriptures
<! -------------------------End H:\Comments\BoilerPlate\intros2.shtml >

Deuteronomy 8:7-18

While in the wilderness, the people of Israel were daily reminded of their dependance on God for their very survival, but things may be different in the Promised Land.
---
2 Corinthians 9:6-15
During the previous year, Titus started a collection among Corinthian Christians for the Christians at Jerusalem. Now Paul sends Titus and others, representatives of their churches, to Corinth to carry this letter and to complete the collection.
---
Luke 17:11-19
On his way to Jerusalem, Jesus heals some lepers. How will they respond to God's goodness?
© 1996-2016 Chris Haslam