<!IMG SRC="pixel.gif" HEIGHT=1 WIDTH=180>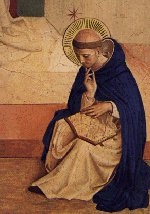 Saint Dominic
contemplating the Scriptures
<! -------------------------End H:\Comments\BoilerPlate\intros2.shtml >

Exodus 24:12-18

Moses has received the Ten Commandments and case laws verbally from God on Mount Sinai. The people of Israel have agreed to obey them in exchange for God being their god and protecting them.
---
2 Peter 1:16-21
This letter is written as Peter's last testament. An eyewitness to Jesus' life, he leaves the Christian community with a sound foundation for faith based on experience. As Jesus appeared at his transfiguration in glory, so he will again when he comes a second time.
---
Matthew 17:1-9
Peter has confessed that Jesus is indeed the Messiah. Jesus has predicted that the Son of Man will come in God's glory before some present have died. Some see the Transfiguration as fulfilling this prediction.
© 1996-2016 Chris Haslam