<!IMG SRC="pixel.gif" HEIGHT=1 WIDTH=180>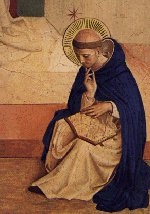 Saint Dominic
contemplating the Scriptures
<! -------------------------End H:\Comments\BoilerPlate\intros2.shtml >

Isaiah 61:1-4,8-11

In a passage probably written after the people of Israel returned from Exile to a devastated land, the prophet foretells the total salvation of God's people. Jesus used the opening verses as his text when he preached the good news in the synagogue at Nazareth.
---
1 Thessalonians 5:16-24
Paul is drawing toward the conclusion of his letter. He has just exhorted the Thessalonian Christians regarding personal conduct and their relations within the community. Now he turns to spiritual matters.
---
John 1:6-8,19-28
John tells us about the Word, what God says and accomplishes in creation. Now the Word enters creation, and a prophet appears to bear witness to this cosmic event in our midst.
© 1996-2016 Chris Haslam