<!IMG SRC="pixel.gif" HEIGHT=1 WIDTH=180>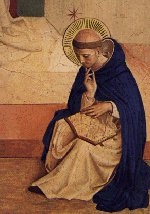 Saint Dominic
contemplating the Scriptures
<! -------------------------End H:\Comments\BoilerPlate\intros2.shtml >

Wisdom of Solomon 3:1-9

In earlier thinking, life simply ended with death – or, at best, the dead merely existed in an indeterminate state, separated from God. But during the first century BC, some Jews realized that there is life after death. They believed that the godly will join God and the angels in heaven, where God will protect them from the "foolish", that is, those who go against God's ways.
---
Isaiah 25:6-9
In accounts of the Last Supper, Jesus says that he will not drink wine again "until that day when I drink it new in the kingdom of God." Chapters 24 to 27 of Isaiah are a prophecy about the end times. Our reading describes the celestial banquet to be held on that day.
---
Revelation 21:1-6a
The book of Revelation is "the revelation of Jesus Christ" made through John. It is prophecy which reveals secrets of heaven and earth. John has seen the destruction of the old city and of the old heaven and earth. Now he sees the new creation, of divine origin and free of evil forces – for ultimately God's love will prevail.
---
John 11:32-44
Lazarus, Mary's brother has died. When Jesus has said to her, "Your brother will rise again", she has thought that he is referring to the general resurrection Jews expected at the end of time, but Jesus has said "I am the resurrection and the life".
© 1996-2016 Chris Haslam