<!IMG SRC="pixel.gif" HEIGHT=1 WIDTH=180>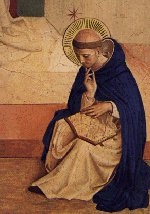 Saint Dominic
contemplating the Scriptures
<! -------------------------End H:\Comments\BoilerPlate\intros2.shtml >

Acts 3:12-19

While visiting the Temple, Peter and John have seen a man lame from birth. Peter has commanded him, in the name of Jesus, to stand up and walk. Peter now preaches to the crowd who have witnessed the miraculous healing.
---
1 John 3:1-7
The author has told us that he writes so that his readers may not sin. But should anyone sin, Christ will defend us. We do in fact deviate from God's ways, so we need Jesus' help. But there are also people who are lawless; they make no attempt to follow God's ways.
---
Luke 24:36b-48
Jesus has appeared to two disciples as they walked to Emmaus; he has shared bread with them. They have just returned to Jerusalem, and have heard from "the eleven and their companions" that Jesus has also appeared to Peter. Now he appears to them.
© 1996-2016 Chris Haslam