<!IMG SRC="pixel.gif" HEIGHT=1 WIDTH=180>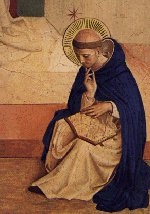 Saint Dominic
contemplating the Scriptures
<! -------------------------End H:\Comments\BoilerPlate\intros2.shtml >

Acts 8:26-40

In Jerusalem, Stephen has been stoned to death for his faith. Persecution of Christians is so widespread that many have left the city. Philip the evangelist has visited Samaria, where he has found many eager to accept the good news and be baptised.
---
1 John 4:7-21
The author has stressed two signs of fellowship with God: faith in Christ and love of fellow Christians. The Holy Spirit inspires confession of who Christ really is: he has come from God, to be truly human. The author has told his Christian readers: you "are from God"
---
John 15:1-8
After the Last Supper, Jesus has given his followers a new commandment, that they love one another, just as he has loved, and loves, them. Now he probably has in mind the judgement on Judah in Isaiah 5: God has lovingly prepared a vineyard for the people, but the vines yielded "wild grapes", so God destroyed the vineyard.
© 1996-2016 Chris Haslam