<!IMG SRC="pixel.gif" HEIGHT=1 WIDTH=180>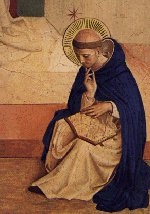 Saint Dominic
contemplating the Scriptures
<! -------------------------End H:\Comments\BoilerPlate\intros2.shtml >

Acts 2:1-21

It is now fifty days since the Resurrection. Many pilgrims have come to Jerusalem for the Festival of Weeks. Luke, the author of Acts, tries to describe the coming of the Holy Spirit, but all he can say is what it is like. Divinity, to some extent, is beyond our experience and comprehension.
---
Ezekiel 37:1-14
At the time when this passage was written, Judah had suffered the shame of conquest. Even the Temple lay in ruins; spirits were at an all-time low. Our reading is a fantastic vision, or dream – in an age when dreams were sometimes prophetic – followed by God's interpretation. God will give the people his Spirit, and they will live.
---
Romans 8:22-27
Paul has written that living the Christian life involves suffering, but that this is minuscule compared to the certain hope of future glory. Now we are "in bondage to decay" – to committing sinful acts – and await the "revealing of the children of God". He likens our duress to the pain of child-birth.
---
John 15:26-27;16:4b-15
After the Last Supper, Jesus continues to tell the disciples about the mission they are to undertake. The "Advocate" is the Holy Spirit; he is the "spirit of truth", and will be sent to the disciples, and to the Church, by Christ "from the Father".
© 1996-2016 Chris Haslam