<!IMG SRC="pixel.gif" HEIGHT=1 WIDTH=180>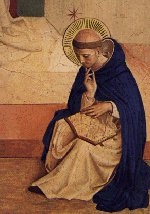 Saint Dominic
contemplating the Scriptures
<! -------------------------End H:\Comments\BoilerPlate\intros2.shtml >

Genesis 1:1-5

Genesis includes creation stories drawn from two different sources. The authors of the first creation story emphasize the goodness of God's creation, and how God created the orderly world out of chaos, and gave humans a place of honour.
---
Acts 19:1-7
Luke, also the author of Acts, has just told us about Apollos, a learned, eloquent spokesman for God who knew only the baptism of John. After learning that Jesus is the Messiah, he travelled to Greece, proclaiming the good news of Christ. In our reading, twelve disciples of John come to accept Christ, and are baptised.
---
Mark 1:4-11
In the first verses of this gospel, Mark quotes an Old Testament passage prophesying that God will send a messenger to prepare the way for Christ. The good news of Jesus Christ begins with John's call to repentance.
© 1996-2016 Chris Haslam