<!IMG SRC="pixel.gif" HEIGHT=1 WIDTH=180>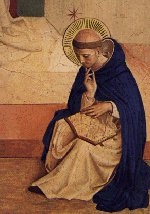 Saint Dominic
contemplating the Scriptures
<! -------------------------End H:\Comments\BoilerPlate\intros2.shtml >

1 Samuel 3:1-10,(11-20)

After many years of childlessness, Hannah has been given a son. In return, she has brought Samuel to the temple at Shiloh, saying, "For this child I prayed: and the Lord granted me the petition I made to him. Therefore I have lent him to the Lord; as long as he lives, he is given to the Lord.". Samuel has entered the service of Eli, the priest.
---
1 Corinthians 6:12-20
Corinth was known for licentiousness. Paul has written: "It is actually reported that there is sexual immorality among you ...". Using quotations from his opponents, he shows that there are limits on the liberty in the Christian life.
---
John 1:43-51
On the previous day, Andrew and Peter, both disciples of John the Baptist, have become Jesus' disciples. Jesus has invited them to "Come and see", to come and believe in him. Now we hear how Nathanael, a religious Jew, comes to believe in Christ.
© 1996-2016 Chris Haslam