<!IMG SRC="pixel.gif" HEIGHT=1 WIDTH=180>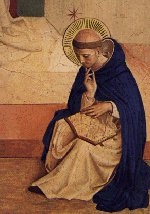 Saint Dominic
contemplating the Scriptures
<! -------------------------End H:\Comments\BoilerPlate\intros2.shtml >

Hosea 2:14-20

God, speaking through the prophet Hosea, speaks of his relationship with Israel in terms of a marriage: he is the husband and Israel the wife. She has succumbed to worshipping pagan gods so he has spurned her, but not for ever.
---
2 Corinthians 3:1-6
Paul has differentiated himself from false teachers who seek financial gain from the gospel. He has written had he is a person of sincerity, sent from God and standing in his presence.
---
Mark 2:13-22
Jesus is at Capernaum, on the western shore of the Sea of Galilee. He has told a paralytic that his sins are forgiven but some religious authorities have doubted his ability to do so, for only God can forgive sins. He has proved that he is from God by also healing the man.
© 1996-2016 Chris Haslam