<!IMG SRC="pixel.gif" HEIGHT=1 WIDTH=180>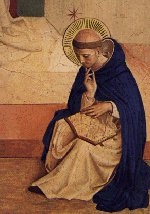 Saint Dominic
contemplating the Scriptures
<! -------------------------End H:\Comments\BoilerPlate\intros2.shtml >

2 Samuel 1:1,17-27

The previous chapter (in 1 Samuel) tells of a battle against the Philistines on Mount Gilboa (near the Sea of Galilee). This time, the Philistines defeat the Israelites, led by Saul. Jonathan, Saul's son and heir, is killed; Saul is so badly wounded that he either takes his own life, or asks a foreigner alien to kill him.
---
2 Corinthians 8:7-15
The mother church, Jerusalem, is again in financial need. The churches of Macedonia have been most generous in contributing to the Jerusalem Fund, but the collection of funds at Corinth has been interrupted, perhaps by the quarrels and divisions in the Church.
---
Mark 5:21-43
After stilling the storm at sea and curing a demoniac on the eastern shore of the Lake of Galilee, Jesus returns to Jewish territory on the western shore. Mark presents two stories of healing: the story of the healing of Jairus' daughter is interrupted by the woman's gesture of trust – through which she is healed. The scene then returns to the raising of the girl.
© 1996-2016 Chris Haslam