<!IMG SRC="pixel.gif" HEIGHT=1 WIDTH=180>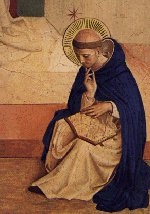 Saint Dominic
contemplating the Scriptures
<! -------------------------End H:\Comments\BoilerPlate\intros2.shtml >

2 Samuel 6:1-5,12b-19

With God's help, David has won battles over the Philistines; but in one, they captured the Ark. While it was in their hands, the Philistines suffered a plague which they blamed on the Ark, and so returned it to Israel.
---
Ephesians 1:3-14
Paul gives thanks to God for the spiritual blessings which are bestowed on the Christian by virtue of baptism. He also exhorts his readers to recognize the purpose of these blessings of the Christian life: to live "to the praise of [God's] glory."
---
Mark 6:14-29
Jesus' disciples have gone out, preached repentance, cast out demons, and cured many sick people but, while the crowds mill round him, the authorities are beginning to reject him. Herod has heard of the miracles done by the disciples, or of Jesus' fame – or both.
© 1996-2016 Chris Haslam