<!IMG SRC="pixel.gif" HEIGHT=1 WIDTH=180>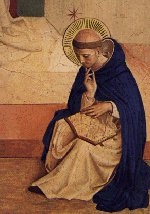 Saint Dominic
contemplating the Scriptures
<! -------------------------End H:\Comments\BoilerPlate\intros2.shtml >

2 Samuel 7:1-14a

David is now installed as king in Jerusalem. He wishes to centralize religious and political power, but God cautions him against moving too fast. The word house has three meanings in this reading: palace, temple, and dynasty.
---
Ephesians 2:11-22
The author tells us that divisions between Jews and Gentiles, and enmity on both sides, has become in Christ a thing of the past. We are all members of the one growing Church, of which Christ is the founder.
---
Mark 6:30-34,53-56
Jesus has sent out the disciples, giving them authority over evil forces in people. By telling the story of John the Baptist's death, Mark has told us that discipleship does have its risks. After proclaiming repentance and curing the sick, the disciples now return.
© 1996-2016 Chris Haslam