<!IMG SRC="pixel.gif" HEIGHT=1 WIDTH=180>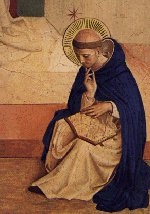 Saint Dominic
contemplating the Scriptures
<! -------------------------End H:\Comments\BoilerPlate\intros2.shtml >

2 Samuel 11:26-12:13a

While David's troops were off fighting the Ammonites, he has lain with Bathsheba, Uriah's wife, making her pregnant. David has tried to get Uriah, home on leave, to lie with his wife (so he will think the child is his), but when this has failed, David has ensured that Uriah is killed in the fighting.
---
Ephesians 4:1-16
The author has told his readers of the present exalted state of Christ and the Church, the new unity of God's people, and the Church as an established growing structure where God dwells. Now he tells us the obligations of being members of this new humanity.
---
John 6:24-35
The crowd has misunderstood the nature of the food Jesus gives. They have taken him for a political messiah who will free them from Roman occupation. John continues to pursue the question: Who is Jesus? Is he divine?
© 1996-2016 Chris Haslam