<!IMG SRC="pixel.gif" HEIGHT=1 WIDTH=180>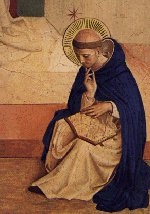 Saint Dominic
contemplating the Scriptures
<! -------------------------End H:\Comments\BoilerPlate\intros2.shtml >

1 Kings 8:1,6,10-11,22-30,41-43

After the Philistines returned the Ark to the Israelites and David conquered Jerusalem, he moved it to the city. But God, through the prophet Nathan, has forbidden him to construct a permanent dwelling place for it. Under Solomon, the Temple has been built.
---
1 Kings 8:22-30,41-43
The Temple has been built, and the Ark of the Covenant moved to it, in procession. A cloud shows the presence of God in the Temple. Solomon has addressed the people. Now he prays to God.
---
Ephesians 6:10-20
Christians share in the power of God, operative in the resurrection and exaltation of Christ to heaven, and in his victory over the forces of evil. Now the author tells us that we need to use this power to overcome evil forces in the world.
---
John 6:56-69
Jesus has said that he is divine and the living bread. Now he says that partaking in the Eucharist, the Lord's Supper, establishes a lasting relationship, a community of life, between him and the believer. Belief in this ultimate reality is a gift given by God to some.
© 1996-2016 Chris Haslam