<!IMG SRC="pixel.gif" HEIGHT=1 WIDTH=180>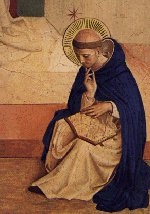 Saint Dominic
contemplating the Scriptures
<! -------------------------End H:\Comments\BoilerPlate\intros2.shtml >

Job 38:1-7,(34-41)

Job has complained of God's indifference and injustice to him; he has asked why his misfortune happened. He has pleaded that God hear him, that God answer him. He finds out that he and his friends thought they understood the world; he ends up realizing that they do not. And so his complaint against God evaporates.
---
Hebrews 5:1-10
The author has told us that "we have a great high priest" who has been raised to heaven, namely "Jesus, Son of God". Now he compares the high priests of Judaism with Christ. He writes as though the Temple still stands.
---
Mark 10:35-45
The disciples have argued over status. Now James and John seek special status, not realizing that being given it would involve sharing both Jesus' "cup" – that is, his suffering and death – and his baptism – that is, sharing fully in God's ways.
© 1996-2016 Chris Haslam