<!IMG SRC="pixel.gif" HEIGHT=1 WIDTH=180>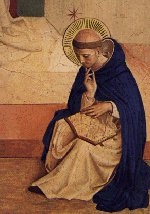 Saint Dominic
contemplating the Scriptures
<! -------------------------End H:\Comments\BoilerPlate\intros2.shtml >

Joel 2:21-27

Joel has described a plague of locusts which has invaded Palestine, with devastating effect. The Day of the Lord can be like this, but if the people of Judah repent and turn to the Lord, he will spare Judah from such a fate.
---
1 Timothy 2:1-7
The author, in urging that certain teachers should teach "divine training that is known by faith", had said that the goal of teaching is love, sharing God's generosity with one's neighbour. Now he offers instructions on prayer.
---
Matthew 6:25-33
Our reading is from the Sermon on the Mount. Jesus has just said that it is impossible to serve two masters: one cannot love both. Accumulation of wealth and providing for times of difficulty can cause people such anxiety that they fail to put God first in their lives.
© 1996-2016 Chris Haslam