<!IMG SRC="pixel.gif" HEIGHT=1 WIDTH=180>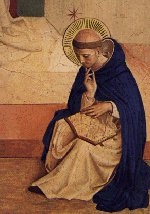 Saint Dominic
contemplating the Scriptures
<! -------------------------End H:\Comments\BoilerPlate\intros2.shtml >

Isaiah 61:10-62:3

The prophet has been sent to bring good news to the exiled and the oppressed. Now he speaks on behalf of Jerusalem, the holy city. Finally, after years of silence, God replies.
---
Galatians 4:4-7
Paul has told us that, before Christ came, we were like an heir under guardianship, unable to speak or to act on our own behalf. But now we are heirs in God's family, under grace. We are no longer subject to the guardianship of the Law.
---
Luke 2:22-40
Jesus has been circumcised, as was required by Jewish law. Now, some forty days after Jesus' birth, Mary is to be purified by a priest after childbirth. She brings him along, as she comes to the Temple.
© 1996-2016 Chris Haslam