<!IMG SRC="pixel.gif" HEIGHT=1 WIDTH=180>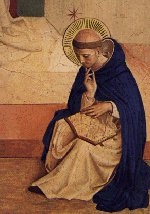 Saint Dominic
contemplating the Scriptures
<! -------------------------End H:\Comments\BoilerPlate\intros2.shtml >

Daniel 7:1-3,15-18

Daniel is an almost legendary figure from the days of the exile in Babylon. Much later, at a time when the Temple in Jerusalem was desecrated, a writer wonders why God has allowed Jews to be persecuted for centuries.
---
Ephesians 1:11-23
Paul writes to the saints, the community of Christians who are faithful to Christ. He has said that God has chosen us to be in Christ, set us apart for him, and destined us for adoption as his children, through his freely-given gift of love, expressed in sending Jesus.
---
Luke 6:20-31
After praying, and choosing the twelve apostles, Jesus comes down the mountain to a level place. There a great crowd, from throughout Israel and from beyond, is gathered to be cured of physical and spiritual illnesses, and to hear his message.
© 1996-2016 Chris Haslam