<!IMG SRC="pixel.gif" HEIGHT=1 WIDTH=180>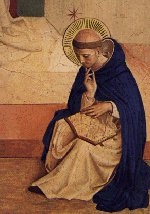 Saint Dominic
contemplating the Scriptures
<! -------------------------End H:\Comments\BoilerPlate\intros2.shtml >

Acts 9:1-6,(7-20)

Luke, the author of Acts, has told us that in Jerusalem "Saul was ravaging the church by entering house after house; dragging off both men and women, he committed them to prison." Now we see his great transformation: from persecutor to evangelist. In the early days, Christianity was known as The Way.
---
Revelation 5:11-14
This book is an inspired picture-book, intended to make a powerful appeal to the reader's imagination. John writes in a style familiar in his time, especially in Jewish circles, but as strange to us as the novel or detective story would be then. A key question at that time was: what will life after death be like?
---
John 21:1-19
Since his resurrection, Jesus has twice appeared to the disciples in the house where he hosted the Last Supper. Now he appears to seven disciples near the Sea of Galilee. "Tiberias" was the Roman name for the lake.
© 1996-2016 Chris Haslam