<!IMG SRC="pixel.gif" HEIGHT=1 WIDTH=180>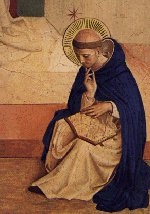 Saint Dominic
contemplating the Scriptures
<! -------------------------End H:\Comments\BoilerPlate\intros2.shtml >

Nehemiah 8:1-3,5-6,8-10

Persia has conquered Babylon. An edict from the Persian king, Cyrus, permits Jewish exiles to return home. The people now gather near one of the gates in the walls of Jerusalem to hear the prophet Ezra reading from Leviticus. He reads in Hebrew, and priestly assistants translate and interpret.
---
1 Corinthians 12:12-31a
Paul has told the Christians at Corinth that spiritual gifts come through the Holy Spirit and are given by him, as he chooses, for the benefit of the whole community. Now he turns to the nature of the Church – using the analogy of the human body.
---
Luke 4:14-21
Jesus has been tempted by the devil in the wilderness – to misuse his power for his personal benefit, for worldly domination, and for protection from God's plan fulfilled on the cross. While there he was "led by the Spirit". Now he applies the words of Isaiah to himself: he is the predicted messiah; he will bring freedom to the oppressed.
© 1996-2016 Chris Haslam