<!IMG SRC="pixel.gif" HEIGHT=1 WIDTH=180>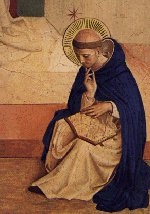 Saint Dominic
contemplating the Scriptures
<! -------------------------End H:\Comments\BoilerPlate\intros2.shtml >

Jeremiah 1:4-10

After years of straying from God's ways, King Josiah guided the people back to godliness, with Jeremiah's help. God speaks to the prophet. Since before he was born, God has known him intimately and has dedicated him to his service. He will support him in this ministry, despite his youth, inexperience, and apparent lack of authority.
---
1 Corinthians 13:1-13
Paul has further instructed the Christians at Corinth about the gifts of the Spirit, telling them that three groups of gifted people are especially important, namely apostles (who spread the good news), prophets (who tell of new insights into the faith) and teachers of the faith. Now he says that the most important is love, the expression in the community of Christ's love for us.
---
Luke 4:21-30
Jesus attends the synagogue service on the sabbath. He has just read some verses from Isaiah. He now tells worshippers that he fulfils them: he is the expected messiah; he will rescue all those who are in need; God's promises made to Israel are "fulfilled" in the new age.
© 1996-2016 Chris Haslam