<!IMG SRC="pixel.gif" HEIGHT=1 WIDTH=180>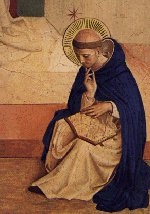 Saint Dominic
contemplating the Scriptures
<! -------------------------End H:\Comments\Website\SSI\BoilerPlate\intros2.shtml >

Jeremiah 17:5-10

God, through the prophet Jeremiah, contrasts the fates of the ungodly and the godly. To ancient peoples, the heart was the centre of emotions, feelings, moods and passions. It also discerned good from evil and was the centre of decision-making. Conversion to God's ways took place in the heart.
---
1 Corinthians 15:12-20
Paul continues his argument against those at Corinth who deny that Christians will be resurrected bodily. He has written of three basic doctrines he has received and passed on: Christ died, was buried, and rose. He now confronts these people with a logical argument. He confronts them with the consequences of their denial and tells the benefits of affirming resurrection.
---
Luke 6:17-26
Jesus has ascended a mountain to pray. While there, he has chosen twelve of his disciples to be apostles. Now he descends part-way, to a "level place". There he finds followers and many others, from Israel and beyond. He tells who will be admitted to his Kingdom – and who will not.
© 1996-2016 Chris Haslam