<!IMG SRC="pixel.gif" HEIGHT=1 WIDTH=180>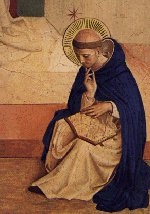 Saint Dominic
contemplating the Scriptures
<! -------------------------End F:\Comments\Website\SSI\BoilerPlate\intros2.shtml >

Genesis 45:1-15

Joseph has risen to high office in Egypt. Thanks to his management, the Egyptians have enough supplies to last through a famine. Earlier, Joseph's brothers travelled to Egypt in search of supplies, which they were given. Now desperation has forced them to return in search of food. They still do not realize that the Egyptian manager is the brother they sold into slavery years earlier.
---
1 Corinthians 15:35-38,42-50
Paul has written: "Christ has been raised from the dead ... so all will be made alive in Christ" when he comes again. He now tells us what kind of bodies we will have when we are raised to be with Christ.
---
Luke 6:27-38
Jesus has told his disciples (probably in the hearing of a crowd) whom God will favour when Christ comes again. They will be those who are now poor, hungry, sorrowful and hated; they will be blessed.
© 1996-2016 Chris Haslam