<!IMG SRC="pixel.gif" HEIGHT=1 WIDTH=180>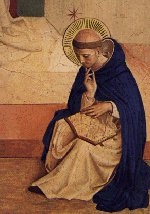 Saint Dominic
contemplating the Scriptures
<! -------------------------End H:\Comments\BoilerPlate\intros2.shtml >

Amos 7:7-17

During a time of prosperity, the people of Israel have become religiously and socially corrupt. God shows Amos how much they fail to measure up to his ways, as a plumb line shows the crookedness of a wall – and the need to rebuild it completely.
---
Colossians 1:1-14
Paul begins his letter to the Christian community at Colossae (in western Asia Minor) with a prayer of thanksgiving and intercession. The Church, both there and throughout the Roman Empire, is growing.
---
Luke 10:25-37
Jesus has prepared emissaries for a mission beyond Israel. They have returned and reported their success. Now a lawyer, an expert in interpreting Mosaic Law, challenges Jesus. Who can inherit eternal life?
© 1996-2016 Chris Haslam