<!IMG SRC="pixel.gif" HEIGHT=1 WIDTH=180>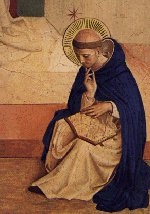 Saint Dominic
contemplating the Scriptures
<! -------------------------End H:\Comments\BoilerPlate\intros2.shtml >

Hosea 11:1-11

In symbolic language, Hosea has told of the deviation of the people of the northern kingdom (Israel) from God's ways: they have deserted God and his covenant with them. Now he foretells their exile to Assyria.
---
Colossians 3:1-11
The author has said that in baptism the Christians at Colossae share in Christ's death, suffering and resurrection. Now he tells them the ethical implications of being a member of the baptised community.
---
Luke 12:13-21
A large crowd has gathered round Jesus. Now he instructs both them and his disciples on the importance of a proper relationship with God. No one should selfishly amass wealth to the exclusion of spirituality.
© 1996-2016 Chris Haslam