<!IMG SRC="pixel.gif" HEIGHT=1 WIDTH=180>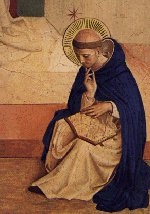 Saint Dominic
contemplating the Scriptures
<! -------------------------End H:\Comments\BoilerPlate\intros2.shtml >

Isaiah 5:1-7

Composed in the form of a popular ballad, this poem was probably sung at the harvest thanksgiving festival. The lovers are God and his people, Judah. Despite his care, the people of Judah have deserted him.
---
Hebrews 11:29-12:2
The author continues to give examples of Old Testament figures who trusted in God to preserve them in times of suffering and hardship. Now that the saving work of Christ has been completed, they, with us, enjoy the promise of eternal life.
---
Luke 12:49-56
Our reading is several loosely joined sayings about the end of the current era. In refining, fire is used to separate the genuine from the dross; it purifies. Jesus has come to bring peace, but not at any cost. The crowds understand signs of impending weather, but fail to see that Jesus' ministry foreshadows division between the godly and the ungodly at the end of time.
© 1996-2016 Chris Haslam