<!IMG SRC="pixel.gif" HEIGHT=1 WIDTH=180>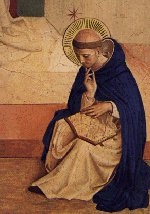 Saint Dominic
contemplating the Scriptures
<! -------------------------End H:\Comments\BoilerPlate\intros2.shtml >

Jeremiah 1:4-10

After years of the people straying from God's ways, King Josiah guided them back to godliness, with Jeremiah's help. God speaks to the prophet. Since before he was born, God knew him intimately and dedicated him to his service. He will support him in this ministry, despite his youth, inexperience, and apparent lack of authority.
---
Hebrews 12:18-29
The author contrasts the making of the old and new covenants of God with his people. When the old covenant was made at Mount Sinai, the Israelites were filled with awe and terror, but the making of the new covenant, with us, is accompanied by joy.
---
Luke 13:10-17
A woman is healed of her ailment because Jesus sees her in the synagogue. She does not ask to be healed. She thanks God for her cure. Entry into the kingdom of heaven is like this. Jesus says that the sabbath, set apart for God, is for being compassionate.
© 1996-2016 Chris Haslam