<!IMG SRC="pixel.gif" HEIGHT=1 WIDTH=180>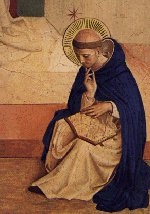 Saint Dominic
contemplating the Scriptures
<! -------------------------End H:\Comments\BoilerPlate\intros2.shtml >

Jeremiah 18:1-11

Jeremiah, inspired by God, uses an example story, an allegory, to try to teach the people and rulers of Judah a lesson. People can choose to do good or to do evil. God notices when people turn towards him, and when they turn away.
---
Philemon 1-21
Onesimus, a slave in Philemon's service, has run away from his master and has visited Paul, who is in prison. While with Paul, Onesimus has become a Christian. Now Paul pleads with Philemon to take him back and to exercise leniency towards him.
---
Luke 14:25-33
Jesus tells the crowds what it takes to become a follower: you must put Christ first. He uses extreme language to make his point.
© 1996-2016 Chris Haslam