<!IMG SRC="pixel.gif" HEIGHT=1 WIDTH=180>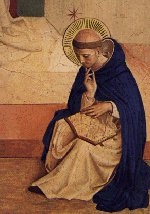 Saint Dominic
contemplating the Scriptures
<! -------------------------End H:\Comments\BoilerPlate\intros2.shtml >

Jeremiah 8:18-9:1

The people of Judah have strayed from God's ways. They have refused to turn back to God, as he has exhorted them to do through the prophet Jeremiah. They have provoked God by worshipping foreign gods. Jeremiah loves the people dearly. Is God really not going to heal them?
---
1 Timothy 2:1-7
The author, writing in Paul's name, urges Christians to pray for everyone – even for secular authorities who may persecute them. God, he says, is for all people. Christ shared human nature for the benefit of all, and, at a time chosen by God, lived and died for all people.
---
Luke 16:1-13
Jesus tells a story about two people whom the crowd would consider dishonest. Before being fired, the manager acts pragmatically on behalf of the rich man. Discipleship requires a pragmatic approach too. We should use all God's gifts, and especially money, prudently.
© 1996-2016 Chris Haslam