<!IMG SRC="pixel.gif" HEIGHT=1 WIDTH=180>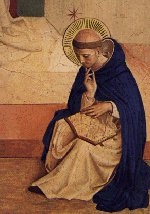 Saint Dominic
contemplating the Scriptures
<! -------------------------End H:\Comments\BoilerPlate\intros2.shtml >

Jeremiah 29:1,4-7

Our reading is part of a letter Jeremiah wrote to the leaders of the exiles in Babylon, deported when Babylon occupied Judah for the first time. The idea that God could be worshipped outside Israel was shocking and revolutionary to the recipients.
---
2 Timothy 2:8-15
Timothy lacks the courage to hand on the good news, perhaps because he leads a Christian community subject to ostracism or persecution. He is even ashamed of being Christian. The Christian leader should practice self-discipline and self-denial. He or she should hold back nothing from the work of spreading the gospel.
---
Luke 17:11-19
Much earlier, Jesus has infuriated synagogue worshippers by recalling the story of Naaman, the Syrian healed of leprosy by Elisha. He was healed of the disease, but no Israelites were. Now, in the faith and response of a Samaritan, one whom Jews despised is saved.
© 1996-2016 Chris Haslam