<!IMG SRC="pixel.gif" HEIGHT=1 WIDTH=180>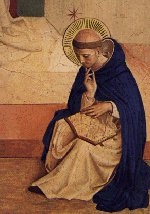 Saint Dominic
contemplating the Scriptures
<! -------------------------End H:\Comments\BoilerPlate\intros2.shtml >

Proverbs 8:1-4,22-31

Wisdom, personified as a woman, cries out to all people. She is of divine origin. She was created before God began creating the world. She witnessed creation, and came to know its secrets.
---
Romans 5:1-5
Paul has written that union with God, which he calls justification, comes through faith. We have peace, all the benefits of a right relationship with God through Christ. Christ comes between us and the Father.
---
John 16:12-15
After the Last Supper, Jesus continues to tell the disciples about the mission they are to undertake. The "Spirit of truth" is the Holy Spirit. He will be sent to the disciples, and to the Church, by Christ "from the Father".
© 1996-2016 Chris Haslam