<!IMG SRC="pixel.gif" HEIGHT=1 WIDTH=180>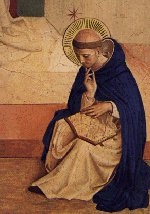 Saint Dominic
contemplating the Scriptures
<! -------------------------End H:\Comments\BoilerPlate\intros2.shtml >

Exodus 34:29-35

After the destruction of the first tablets on which the Ten Commandments were written, God has invited Moses to return to Mount Sinai to receive replacements. While there, he has conversed with God. His face radiates and reflects God's splendour and power, so much so that he wears a veil to avoid overwhelming the Israelites.
---
2 Corinthians 3:12-4:2
Paul contrasts his ministry with that of Moses. He and we are able, thanks to Christ, to see God's plan fully. The dead letter of the Law has been replaced by the living letter of the Spirit.
---
Luke 9:28-36,(37-43a)
While we do not know the exact nature of Jesus' transfiguration, we do recognize that it began with prayer and grew into a profound religious experience. Jesus discusses his departure with Moses and Elijah. He is embarking on the path of doing God's will, as Moses the lawgiver and Elijah the prophet had done before him.
© 1996-2016 Chris Haslam